Moving can be an emotional, and often stressful time, while also being the start of a new stage of someone's life. Housewarming presents are a great way for you to show some support, and to welcome close ones or work mates to this next, exciting stage of their lives, and to a new home.
Here are some great gift ideas from Boxt, all available for delivery Australia wide.
HAMPERS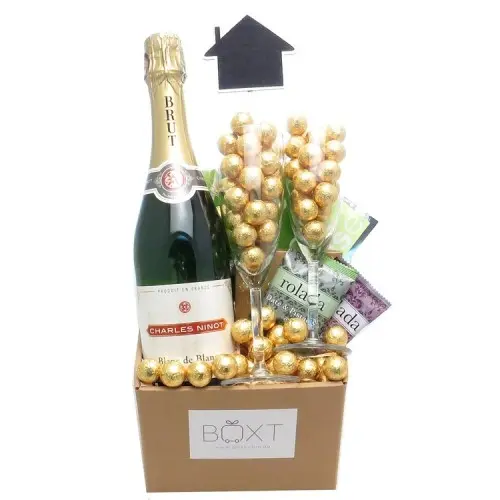 1. Housewarming Gift Hamper, $69
Wrapped in cellophane and trimmed with satin ribbon, this gift hamper includes Champagne and two glasses, so you can help a newly-moved couple or friend to toast to new beginnings. To go with the drinks, the hamper also includes assorted chocolates, tea, bite-sized Roladas, and 30 gold-wrapped milk Chocolate Baubles.
2. Beer, Red, N Nibbles Gift Box, $99
Or you could help your friends mark this milestone with a more casual beer 'n' nibbles. Delight them with this collection of Pale Ale, Merlot, and an incredible range of delicious snacks: garlic nibbles, herbed jerky, chocolate coated almonds, pepper peanuts, chocolate mud fudge, a chocolate bar, a date and pistachio Rolada, and chocolate frogs and baubles.
3. American Honey Snacks Gift Box, $118
Show your friends how to settle into their new home with this cosy hamper of sweet and warm delights. The star is the smooth bourbon blended with honey - Wild Turkey American Honey, and it's paired with some organic caramel popcorn, dark chocolate, honey-roasted nuts, a chocolate gift box, some chocolate mud fudge, Ferrero Rochers, gold-wrapped Chocolate Baubles, and two Roladas and herbal tea sachets.
4. Cut to the Cheese Gift Box, $97
Your welcome home message will be cheesy but eagerly appreciated with this collection of tasty cheese related products. This gift box includes a knife set, smoked cheese nibbles, cheese crackers, and some Maggie Beer Cabernet Paste to go with them. There is also some milk chocolate, Ferrero Rochers, and two dipping bowls.
SINGLE GIFT ITEMS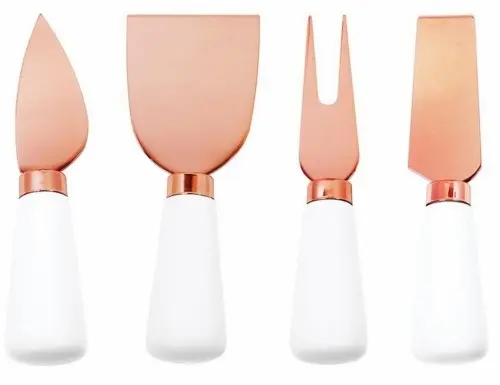 5. Classic Cheese Knives Set, $24.95
This stylish four-piece set can serve as the perfect house-warming gift on its own, or it can complement the Cut to the Chase Gift Box. Each knife has stainless steel blades, with a copper finish, and white ceramic handles. Each of them is paired with a certain type of cheese and texture: soft brie and camembert, crumbling cheeses, and hard cheeses like Parmesan. There's also a cheese fork for holding the cheese in place to cut it.
6. Home DIY Basics, $19.95
There's nothing like moving into a new home and building some customised furniture and handy contraptions. Your friend will appreciate this book full of diagrams, photographs, and creative ideas for enhancing the look and function of their home.
7. Graphic Design Fleece Blanket, $49.95
In the cooler times of the year this 180 x 150 cm blanket with a modern, soft design, will add some warmth to a new home. Your friend will be able to use this on their bed or snuggle up on the couch with it after a long day of work. It comes beautifully gift wrapped, or it can be added to one of the hampers. For an extra special touch, pair this blanket with a housewarming gift card, Heavenly New Home, blank on the inside for a personalised message.
8. Drinking Game Bar Mats, $9.90
For something to inject some fun into that first night in the new home or the house-warming party, these drinking game bar mats make for a great gift. This box of 30 coasters will give you endless ideas for a long and exciting night.